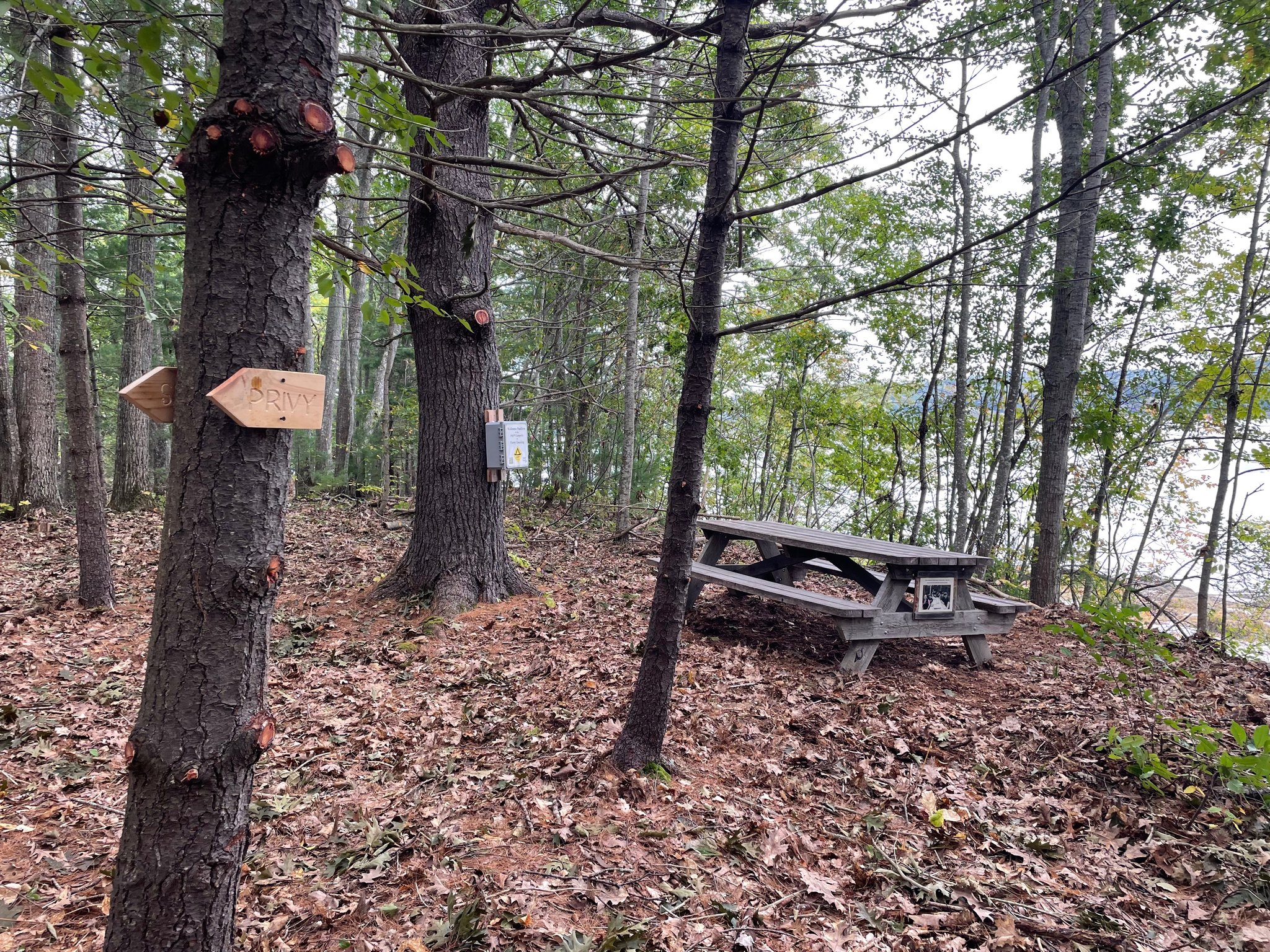 On Sept. 24, 2023, 13 volunteers gathered to make the 11th campsite of the PRPT, located on Bowden Point in Prospect. We worked from 9 am to 1 pm to clear and mow two small fields, clear the ground of logs and brush for tents, carry in a picnic table, an outhouse, and a three-part stairway to install from the beach up the bluff. Rick Henion, vice president of the PRPT, built the outhouse and the stairs at home and brought them on a trailer. 
In addition to Rick Henion, volunteers included Sally and Bud Gilbert, Lisa Pohlmann, Jen Warren, Gabrielle Wellman, Carol Kinsey, Cloe Chunn and David Thanhauser, Clayton Cole and Linda Basilicato, Norm Olson, and Richard Harriman. 
The 10 PRPT campsites previously established are based on a handshake agreement with landowners. This one, however, was a gift to the PRPT from generous abutters who wanted the 6-acre parcel to remain undeveloped in the hands of a nonprofit. The PRPT is the lucky beneficiary of this beautiful parcel of shoreland.
The campsite is just downstream from a former wharf where granite blocks were loaded onto barges for building Fort Knox. From the campsite, the view downstream is toward Bucksport, less than two miles to the town wharf, and another half mile to the Verona Island boat launch. The river stays wide and winds along most of the way before narrowing between the former paper mill industrial site, river left, and Fort Knox, river right. 
The site on the left is known as elenapayi-kwesaweyik, "People's point," a traditional Indigenous gathering place for thousands of years. The narrows were known to Indigenous people as etali-kwsakahlaweletimek, "Place where one crosses." The People's Point was later the ferry landing on the east side of the river, hence the name "Ferry Crossing Campsite." A paper mill site in the 19th and 20th centuries, the mill is now gone. The former ferry landing on the west side, river right, Prospect Ferry, is just upstream of Fort Knox on the right, wahkalosen. The fort was built in 1844 of Mt. Waldo granite in response to border disputes with British Canada, to protect the Penobscot Valley from possible British naval attack. Never used except for training, it was deeded by the US government to the State of Maine for public use in 1923.