Penobscot River Paddling Trail
One-day trips, north to south, with no portages. Most of these trips offer a campsite for lunch and privy. If you have a State of Maine fishing license, try letting out a handline behind your boat, attached so the stern paddler can feel for a bite.
Trip 1
Map 2: Mattaseunk Dam to Winn Boat Launch (9 miles) or to Chester Bridge Boat Launch (13 miles)
Put-in on river left (east side) just downstream of the Mattaseunk Dam between Medway and Mattawamkeag. The put-in is a steep set of steps at a small picnic site on Rt. 157 across the road from Gray's Custom Building. The river is swift water with rapids that are easily avoided. On the way, check out Tannery Row Campsite, river left downstream of Five Islands Rapids at "Turtle Rock." While there, look for the old earthworks of the former tannery on a path upstream, and downstream to a small loop trail for exploring nature.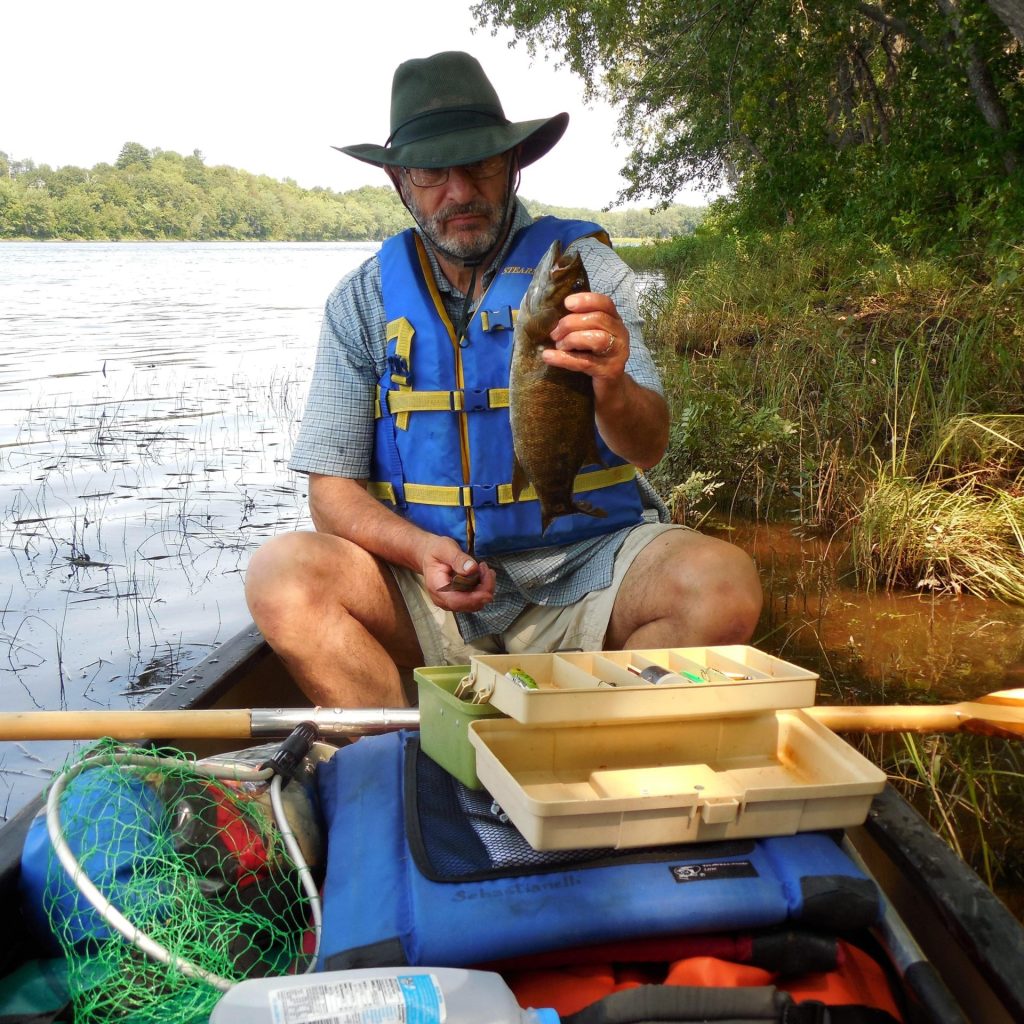 Trip 2
Maps 3 & 4: Winn Boat Launch to South Lincoln Boat Launch (13 miles)
Swift water. Rapids are easily avoidable. On the way, paddle river right of Mattanawcook Island, up Medunkeunk Stream, and check out Medunkeunk Landing Campsite. The South Lincoln Boat Launch is on river left, opposite beautiful Mahockanock Island, whose name means "Turtle Island; Island of Elevated Land."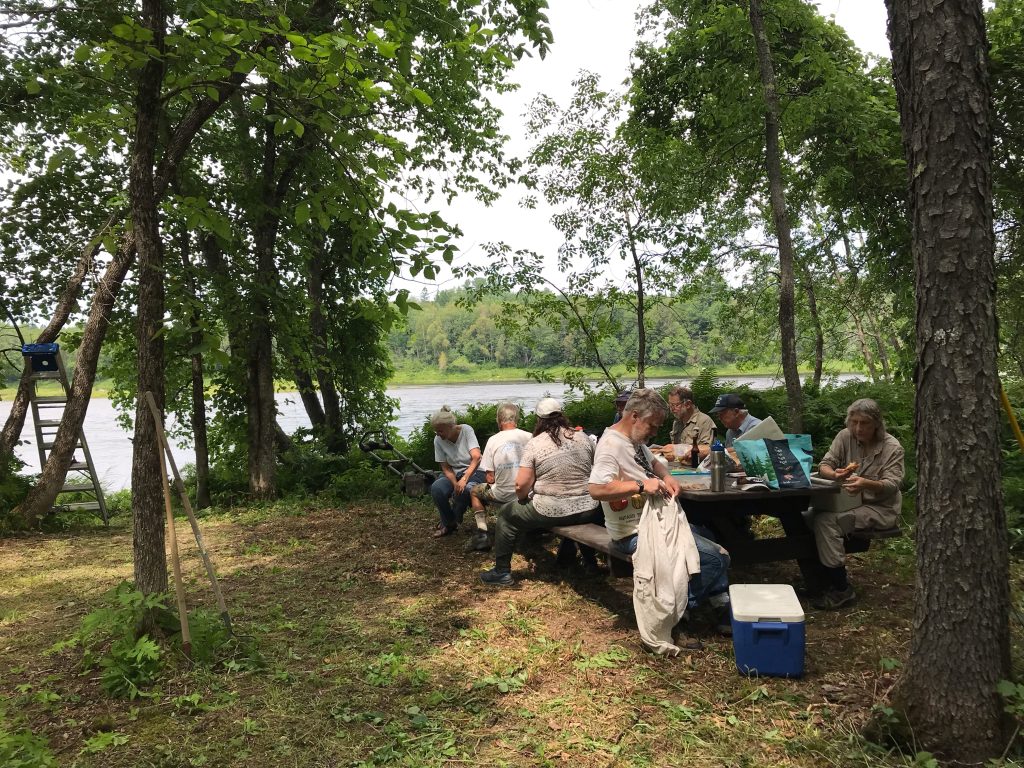 Trip 3
Maps 4 & 5: South Lincoln Boat Launch 8 miles to Merrill Brook Cabins (Howland)
Take-out river right upstream of the West Enfield Dam. On the way, paddle near river left shore in Mohawk Rapids and look for the big Silver Maple on the bank with an old automobile in its roots (nearly hidden). After passing Mohawk Island, check out Mohawk Campsite, river right behind a long thin island below Mohawk Island. At the Merrill Brook Boat Launch, you may want to explore Merrill Brook before taking out.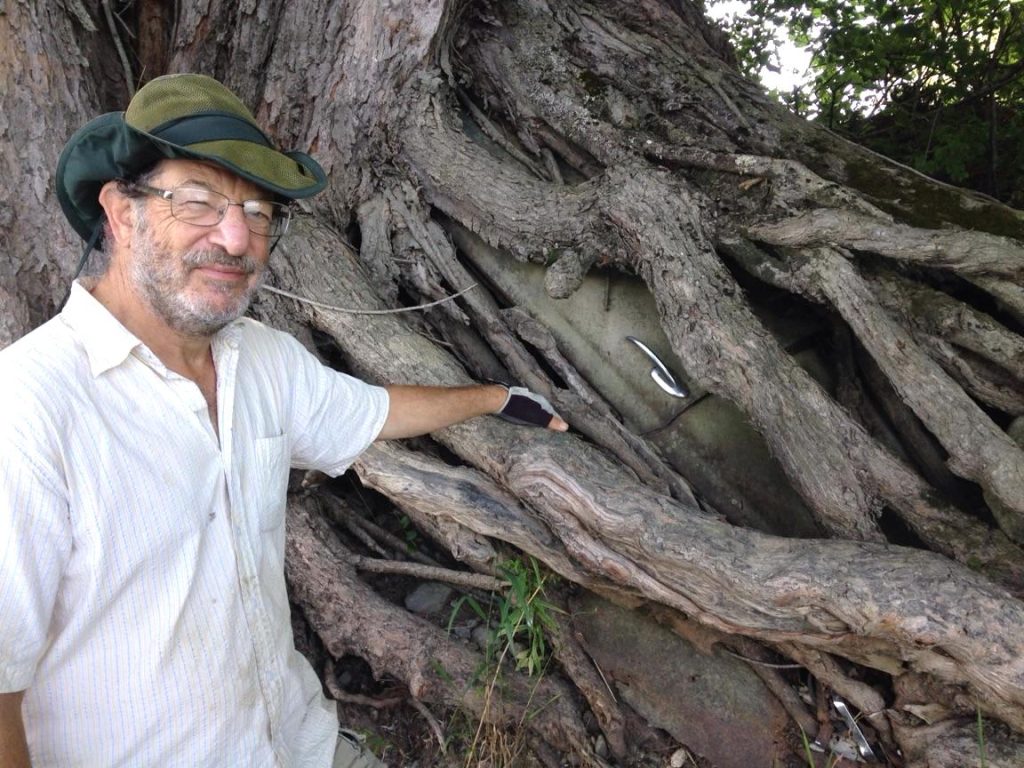 Trip 4
Maps 5-7: Howland Boat Launch to Greenbush Boat Launch (14 miles)
Mostly flatwater, some swift, a few shallow ledges to descend. Shorten the trip by putting in at Passadumkeag Boat Launch and paddling 10 miles. When at the Howland boat launch, visit the observation bridge at Tannery Park to see the fish by-pass engineered in 2015 by the Penobscot River Restoration Project, allowing fish to pass in and out of the Piscataquis River to spawn. Whitewater canoeists sometimes try their hand at paddling through it. The mouth of the Passadumkeag River offers a good bass fishing stop. Check out the Nibezun Campsite on river left three miles downstream of the Passadumkeag River. Near the campsite there is a Medicine Trail to explore. Please respect Wabanaki activities and ceremonies that may be happening. Another campsite along the way, Riverbilly's Retreat, is on river right opposite Foster Island, about a mile before you get to the Greenbush Boat Launch on river left.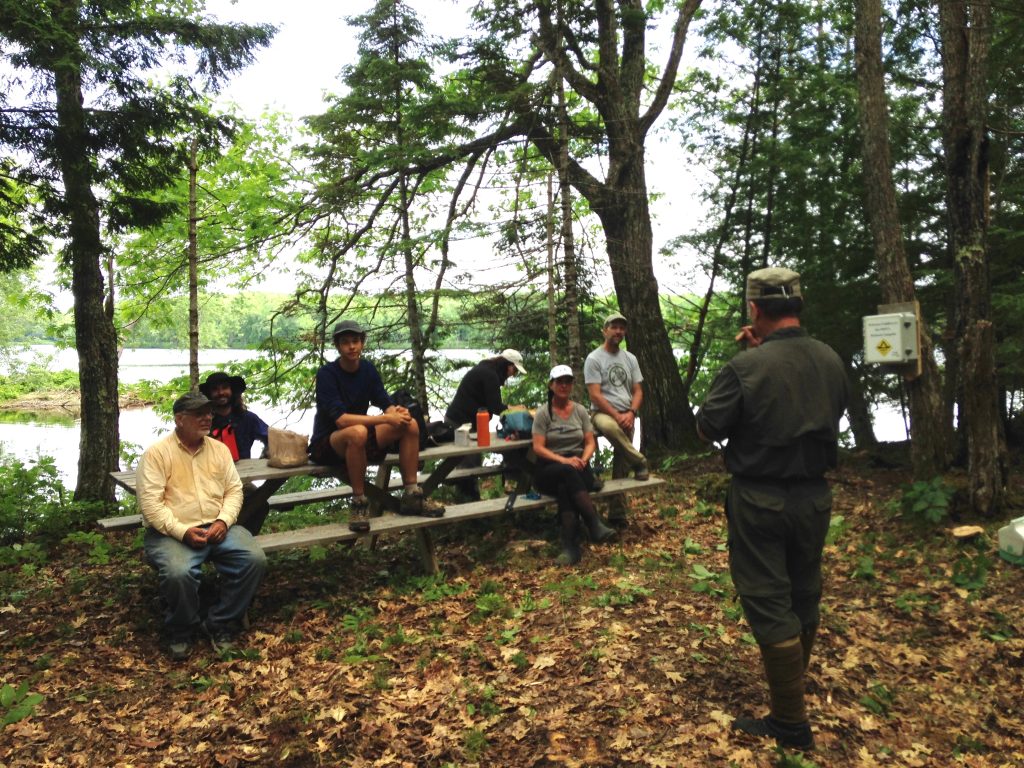 Trip 5
Maps 7-8: Greenbush Boat Launch 9 miles to Old Town Boat Launch
Mostly flatwater with a few shallow ledges to descend. On the way, check out Ketawamkihtek Campsite by turning right into Stillwater Branch and paddling ¼ mile on the right shore. If you keep going past Ketawamkihtek Campsite for 1.5 more miles, you'll find Birch Stream Boat Launch on Rt. 116 in North Old Town, also a good destination. Or return to the Penobscot mainstem and paddle between Orson and Indian Islands to the Old Town Boat Launch.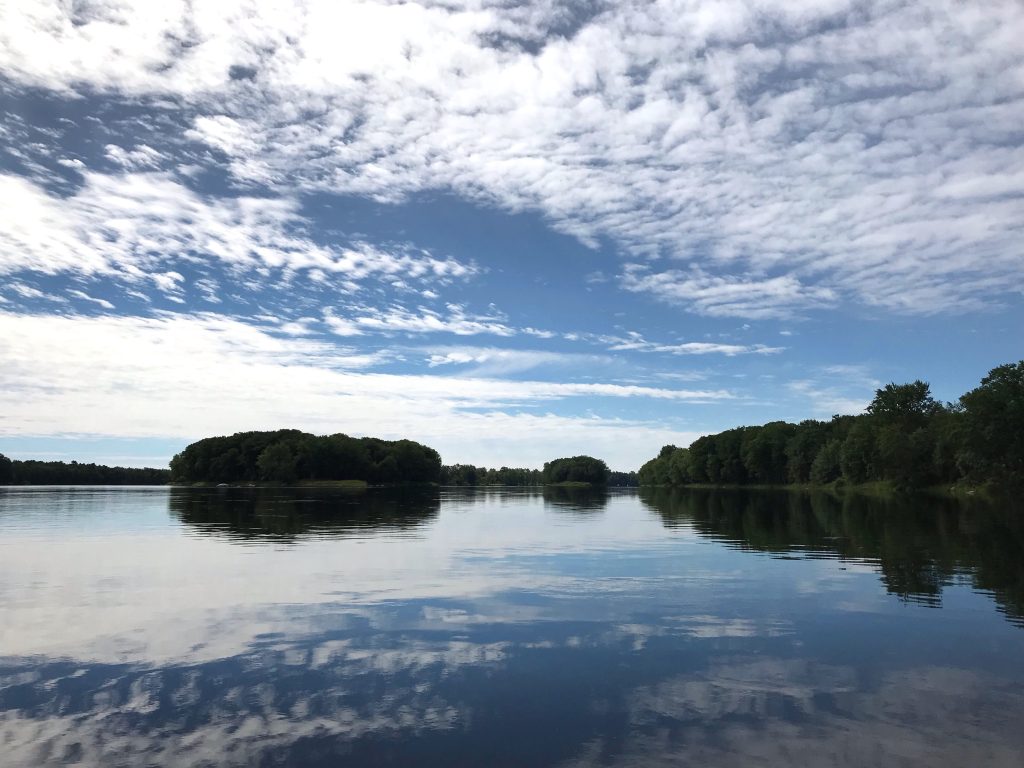 Trip 6
Maps 8-9: Whitewater Day, Old Town to Bangor/Brewer, 10 or 12 miles depending on destination
Put-in at Binette Park, Old Town, just downstream of the Milford Dam. Paddle river left around the east side of French Island through Shad Rips. At the far end of French Island, check out the Southwest French Island Campsite located at French Island Rips. Then prepare for Great Works, the biggest rapid of the day (and of the mainstem river). Watch out for rebar and other remnants of the former dam. Alternatively, scout or portage river left. Three miles later, Basin Mills Rapids, near the mouth of the Stillwater River, are the next big rapids, almost equal to Great Works but without dam debris. Pass the Orono Boat Launch on river right, and check out Oak Glen Campsite, river right on Penobscot Valley Country Club land. The third and last big rapids, Veazie Rips, are a bit easier, lasting to Eddington Bend. At Eddington Bend, the end of whitewater and the head-of-tide, Eddington Salmon Club is on river left, also with a boat launch. Next on river left is the North Brewer Boat Launch. Or proceed to Bangor or Brewer, both of which have hand-carry boat launches. If you go to one of those, you'll pass our campsite on river left at the Penobscot Salmon Club, a good place to rest or eat lunch, but not to park a car. (Privy combination 1776)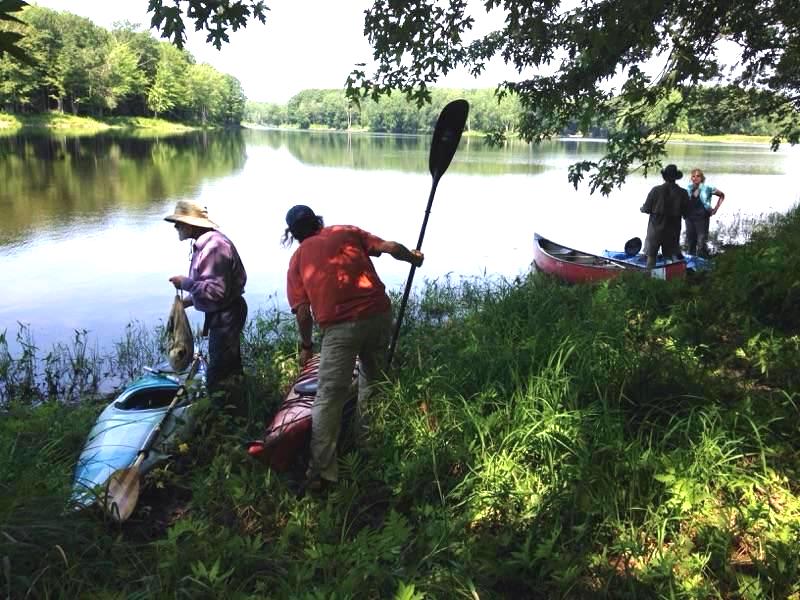 Trip 7
Maps 9-10: Orono Boat Launch to Hamlin's Marina in Hampden, 10 miles
Some whitewater and some tidal water. This stretch allows you to paddle Veazie Rapids, which are not as challenging as Great Works and Basin Mills upstream. Put-in at the Orono Boat Launch. In one mile, check out Oak Glen Campsite on river right on land owned by the Penobscot Valley Country Club. Veazie Rapids come next. Veazie Riverside Park on river right, and the Veazie Salmon Club just after it, offer resting places. Between Bangor and Brewer, you'll cross over the remnants of the old Bangor Dam (see Waterworks building on river right) where salmon fishermen used to fish the Bangor Salmon Pool. Check out our campsite at the Penobscot Salmon Club, river left just after the concrete abutments from the old dam. From there, the tide influences your paddling to Hamlin's Marina on river right in Hampden. Kimberly's Restaurant at the marina offers a venue to celebrate your day with dine-in or out, or take-out.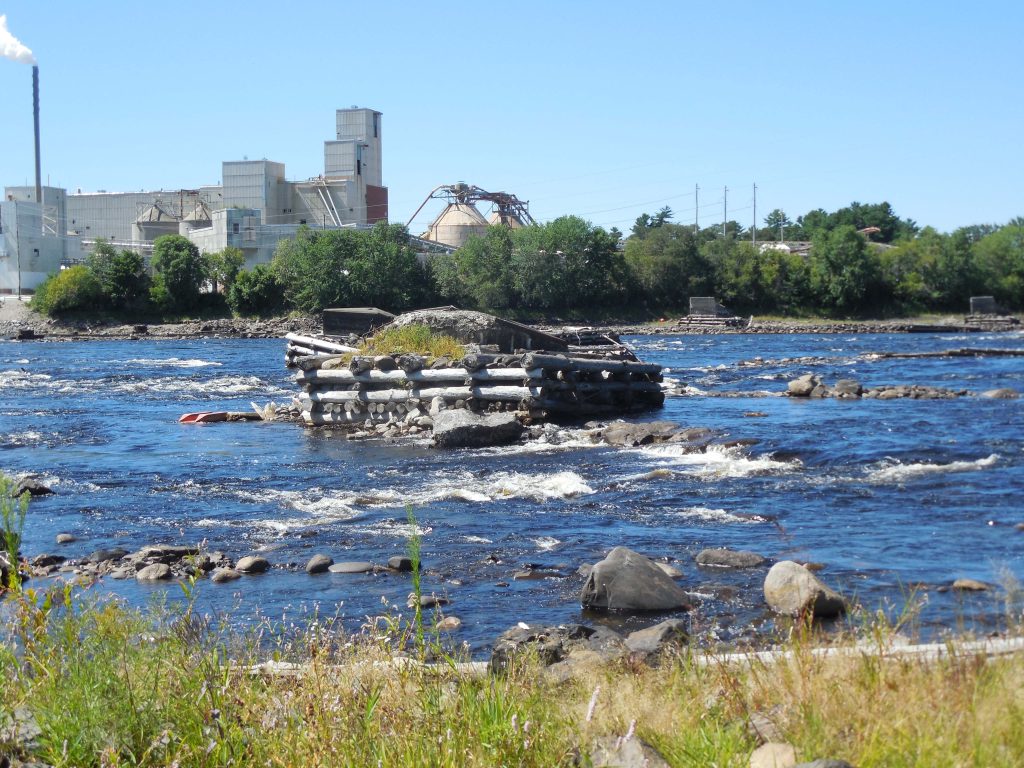 Trip 8
Map 11: Challenging tidal trip, 10 miles from South Orrington Boat Launch to Bucksport/Verona
The river widens considerably, and the trip can go well if you start early on a high tide and let it help carry you down. Challenging winds come up from the sea around noon to impede you. There are no campsites in this stretch, but 2 marinas on river right in Winterport offer refuge. Watch for power boats and sturgeon leaping. Take-out at the public wharf in Bucksport (a longer carry up to the parking lot) or at the Verona Island Boat Launch for easier access. On the way, it is possible to "invade" Fort Knox by tying up at stone steps up to the seawall.